Andy Dear, Vice-Chair of the Liberal Democrat Friends of Palestine comments (you can read the whole article here)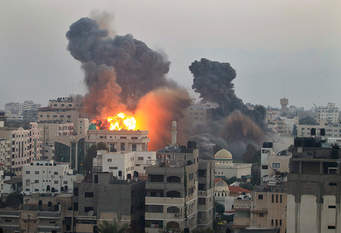 "The Urgent Question put by Layla Moran in Parliament yesterday exposed the gulf between government rhetoric and any attempt to deal with the real causes of the horrific violence unleashed in Gaza and elsewhere in Israel and Palestine over the past few days. Asked time and again for the government's response, James Cleverly told the House the government was 'urging restraint' on both sides. Layla's call for clarity on questions like support for UN Security Council resolutions was met with the bland response the government would be trying to "encourage an end to the violence". Asked by Layla when would be the time to recognise the state of Palestine, if not now, Cleverly just ignored the question.
The spark which ignited the current wave of violence was the proposed illegal evictions in Sheikh Jarrah in East Jerusalem, and it was Conservative MP Crispin Blunt who challenged Cleverly to spot the difference between the UK's response to that and its response 25 years ago to illegal settlements in Har Homa. Cleverly replied that "the UK's position on settlements is of long standing," unintentionally making Blunt's point for him. What we did in the past had no effect, and we intend to keep doing it.
Underlining the futility of the Cleverly's assurances that we have strong diplomatic ties with Israel and can have a "powerful" influence, Benny Gantz, the Israeli defence minister, has announced that "we will not listen to moral preaching against our duty to protect the citizens of Israel", and Israeli Prime Minister Benjamin Netanyahu says "we will inflict blows on (Hamas) that they couldn't even dream of." The British government calls for restraint and a proportionate response, and Israeli ministers proudly announce they are not listening. The disproportionate response the IDF boasts of carrying out in Gaza is explicitly outlawed under the Fourth Geneva Convention, and constitutes a war crime."