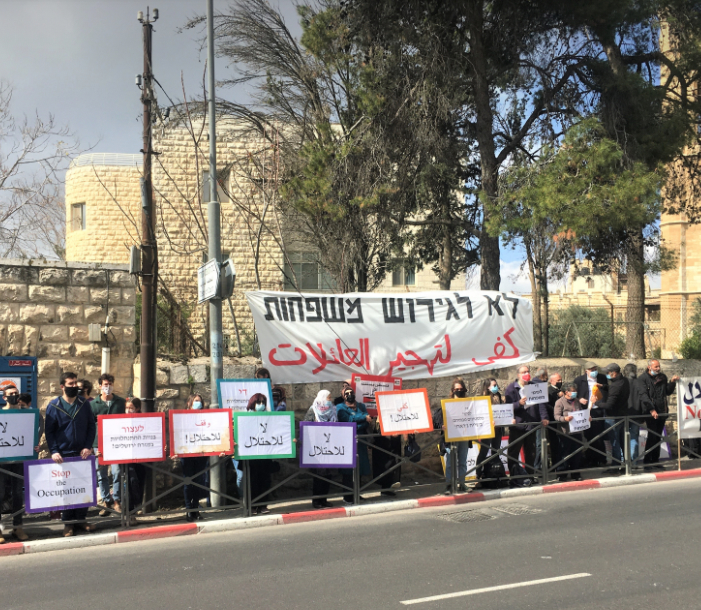 A report from PEACENOW 
On 3 March 2021 the court ruled that the families should vacate their homes by August 1st, 2021. Three weeks ago, the same court rejected another appeal, of 6 other families from four homes and in a few rows, determined that they should leave their houses in favor of settlers. This way, in less then one month, the Jerusalem District Court ordered the eviction of 58 people, 17 of them children, from 7 houses in Sheikh Jarrah, despite the fact that all of them legally settled in their homes, in an official agreement with the Jordanian government which built the houses for them at the 50's.
The lawsuit is part of an organized move designed to dispossess a Palestinian community of its home and establish a settlement in Sheikh Jarrah in its place. Hundreds of Palestinians in Sheikh Jarrah are in a similar situation in court proceedings, and hundreds more in Batan Al-Hawa in Silwan. Adv. Sami Arsheid who represents the families, confirmed after the hearing of the appeal on Monday, that the issue of the evictions in Sheikh Jarrah and Silwan is on of the items of the complaint filed by the Palestinians to the International Court of Justice in The Hague (the ICC). Yesterday, the prosecutor of the ICC, Fatou Bensouda, declared the initiation of an investigation respecting the situation in Palestine.
Since the beginning of 2020 to the present day, judgments have been given in 14 eviction claims of settlers against families in the Batan Al-Hawa in Silwan and Sheikh Jarrah. In the rulings, the Magistrate's Court ordered the evacuation of 36 families with 165 people, including dozens of children. 7 cases in the Batan Al-Hawa for the evacuation of 107 people from 20 families; 7 cases in Sheikh Jarrah for the evacuation of 58 people from 13 families. All the families have filed appeals and are in various stages of hearing in the district court, and some even in the Supreme Court. Dozens more families are in proceedings and may receive evictions soon. If the government does not stop the move, we might see massive evictions of families in the coming months.
Peace Now: "The story here is not legal but political. The court is only the tool by which settlers use with the close assistance of state authorities to commit the crime of displacing an entire community and replacing it with settlement. The Israeli government and settlers have no problem to displace thousands of Palestinians in the name of "the Right of Return" to properties before 1948, while they strongly claim that the millions of Israelis living in Palestinian properties before 1948 cannot be evicted. Since the evacuation of the Mughrabi neighborhood for the purpose of expanding the Western Wall plaza in 1967, there has been no such deportation in Jerusalem. On the table of the prosecution in the International Court of Justice in The Hague is a complaint about the displacement process led by the government in Sheikh Jarrah and in Batan Al-Hawa. The government can still stop this injustice"