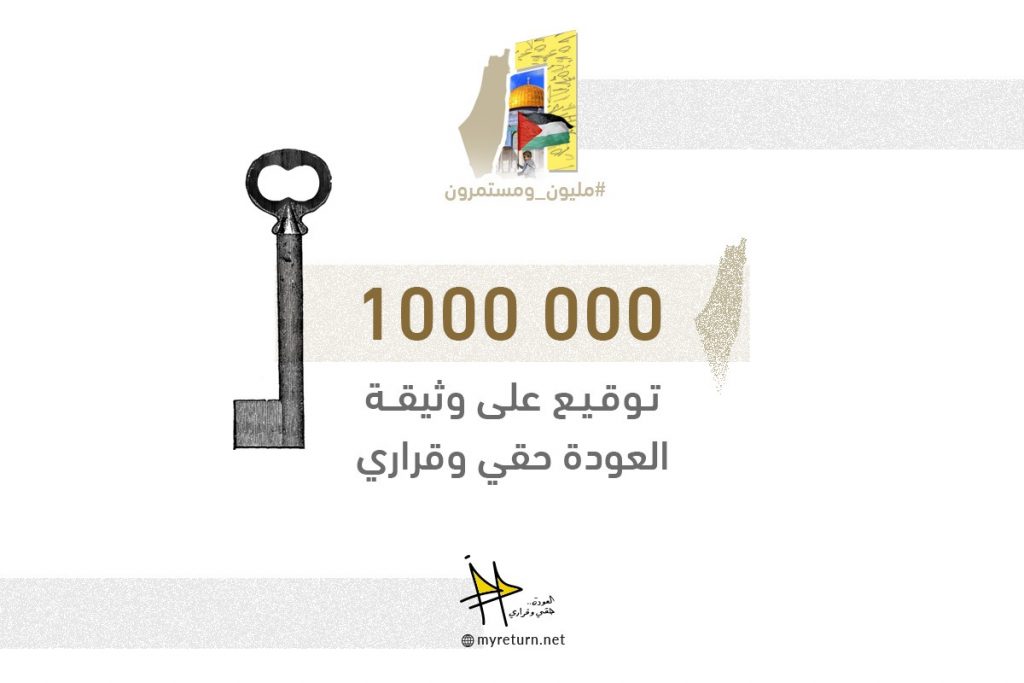 My return campaign has succeeded to achieve its pre-announced target by mobilizing one million signatures on a petition form. The campaign embraces the right of Palestine refugees to turn back to their homeland where they had left their properties during the Nakba 1948 that followed the Israeli Declaration of Independence.
The campaign expects to formally present the "right to return petition" with collected signatures to the United Nations through the Palestinian Return Centre in London – a Non-governmental Organization holding a consultative status at the United Nations. The petition aims to raise the public opinion as a pressure tool to demand the activation of the UN Resolution 194 that defines the principles for reaching a final settlement and returning Palestine refugees to their homes.
Despite the complications due to the pandemic that faced the campaign since its start as a confrontation with the "Trump peace plan", achieving its objectives by gathering one million signatures is considered as a clear evidence that the "right to return" is a deep concept for the Palestinians which would never be abandoned.
The campaign was first introduced on February the 20th, 2020 in Amman, the capital of Jordan, in collaboration with the Palestine Committee at the Parliament of Jordan and with the support of Faisal Al-Fayez, the President of the Senate of Jordan.
The campaign had to cancel some press conferences that were supposed to take place in Brussels and in major cities in North and South America due to the pandemic. Other press conferences were, nonetheless, been able to take place in Beirut and Istanbul which witnessed a huge reaction from a wide segment of Palestinians and others who support Palestinians' rights.
Participants from 181 countries have signed the petition form on the website of the campaign (www.myreturn.net). Several countries have witnessed another form of "symbolic" signature through billboards and posters supporting the petition.
The campaign witnessed a widespread internationally although the severe conditions that faced the campaign at its beginning during the COVID-19 crisis. Some of the activities, as gatherings of Palestinian diaspora in different regions and refugees in Palestine, have been strongly affected by the pandemic.
Many leaders around the globe – among whom are ministers, members of parliament, ambassadors, academics, and journalists – have supported the activities of the campaign through registered videos that were consequently published on the campaign's website and social media pages