http://on.ft.com/1GCmHT7
A group advocating a boycott gains pace as Israeli politicians fight back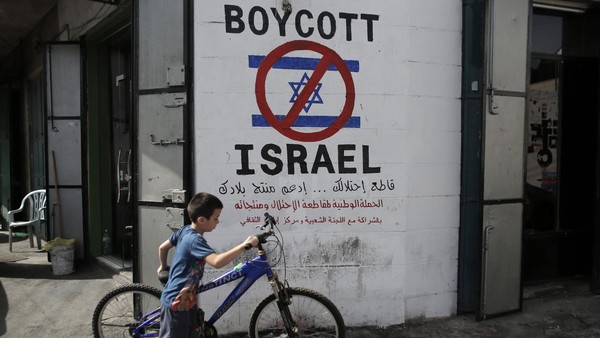 ©AFP
Israel is not at war, but its political leaders are showing rare unity over what they see as a potent new threat to the survival of the Jewish state.
That threat is Boycott, Divestment and Sanctions (BDS), an umbrella campaign of international activists that models itself on the movement that helped topple apartheid in South Africa. Though a decade old, BDS's message — that Israel should be isolated economically for its occupation of Palestinian lands — has appeared to come into its own in recent weeks. A series of votes by overseas groups condemning Israel and a high-profile flap between Prime Minister Benjamin Netanyahu's government and Orange, the French telecoms group, have contributed to the sense that BDS is becoming a force to be reckoned with.
Israel's leaders, who had largely ignored the BDS movement in the past, are fighting back, describing the battle against it in bellicose language befitting a military campaign. "Delegitimisation must be fought, and you are on the front lines," Mr Netanyahu told an anti-BDS summit in Las Vegas last weekend organised by the billionaires Sheldon Adelson and Haim Saban, which reportedly raised tens of millions of dollars.
Yair Lapid, a centre-right opponent of Mr Netanyahu, echoed the sentiment, saying Israel faced a new "external enemy". Isaac Herzog, Israel's centre-left opposition leader, described BDS as a "new intifada" — a reference to the two violent Palestinian uprisings against Israeli occupation.
The condemnations from three very different politicians reflect the fears about what a successful BDS campaign could mean for Israel. Boycotts and divestment could damage Israel's economy. And there are also concerns that it could leave the country internationally isolated — a real worry at a moment when Israel's relationship with its closest ally, the US, is particularly strained.
The BDS movement was boosted by Mr Netanyahu's re-election in March, after a campaign in which he pitched for far-right votes by sowing fear about Arab Israeli citizens' voting power and saying he would not allow the creation of a Palestinian state. The tactics shocked some of Israel's close allies and brought sharp criticism from the White House.
After his victory, Mr Netanyahu has again voiced support for a two-state solution, but few of Israel's overseas diplomatic partners believe it will happen soon. Even the Czech Republic, one of Israel's staunchest allies in Europe, warned this week that its support could not be counted on, and that Israel was sliding towards the status of South Africa under minority white rule. "We want to avoid initiatives against Israel, but it is getting more difficult with the current government and with the opposition to the two-state solution," says Lubomir Zaoralek, the Czech foreign affairs minister. "What is the alternative, to deteriorate towards apartheid?"
The dimming of hope for a negotiated solution to end the Israeli-Palestinian conflict, BDS activists say, buoyed their argument that only concerted economic pressure on Israel will sway its actions. "We are winning the battles for hearts and minds across the world, despite Israel's still hegemonic influence among governments in the US and Europe," says Omar Barghouti, a Palestinian activist and co-founder of BDS.
The growing boycott campaign marks a new phase in Palestinians' conflict with Israel, in which the two sides' arguments are increasingly hashed out not by diplomats and heads of state but by third parties — sporting and student associations, church groups, fund trustees — on the international stage.
In emotive and even offensive terms, boycott advocates and Israel supporters are fighting over painful questions at the heart of the conflict: is Israel fighting a lonely battle against Islamists regionally and anti-Semites overseas? Or is it a racist rogue nation itself? Do the Palestinians share the blame for their predicament, or is Israel at fault for the failure to agree a two-state solution over the two decades since the Oslo accords?
Israel's defence has been so robust that some believe it is giving BDS free advertising. Mr Netanyahu has named Gilad Erdan, a senior MP in his Likud party, as minister of information and strategic affairs, with an explicit brief to fight the boycott movement. Tzipi Hotovely, a hardline nationalist MP, has been given a BDS brief as deputy foreign minister.
"Classic anti-Semitism was to accuse Jews in a set of lies, and the way we see BDS, it's the same pattern," Ms Hotovely told the Financial Times. "The motivation is very clear: it's the delegitimisation of Israel as the national Jewish state."
Israeli officials say BDS singles out Israel for condemnation while ignoring other countries that abuse human rights. They add that some of the movement's demands, including the right of return for millions of Palestinian refugees, would bring Israel's destruction.
BDS rejects all these points. They say Israel's accusations of anti-Semitism are a form of bullying and shutting down dissent, and that their platform of equal rights for all threatens Israel no more than did civil rights movements in the US or South Africa.
©AP
Notwithstanding the movement's triumphant tone — and Israel's robust reaction — BDS has not been nearly as successful as its supporters claim, nor its opponents fear. Several pension funds and other institutional investors, mostly in Europe, have divested from companies with links to Jewish settlements in the West Bank and East Jerusalem, which most of the world considers illegal. In a few cases, companies have quit Israel or avoided investing after coming under pressure.
Veolia Environnement, the French infrastructure group, in April sold most of its Israeli holdings to a private equity group after campaigners criticised it for involvement in projects such as the Jerusalem tram line, which links the city's Jewish west to a settlement. Safege, another French company, recently axed plans to back an Israeli cable car project in the city's occupied east after coming under pressure.
Many of the movement's achievements have been symbolic, as in last week's vote by Britain's National Union of Students to support BDS, which brought a sharp reaction from Mr Netanyahu that was perhaps disproportionate to the group's importance. The Palestinian football association last month won support from Fifa, the world football federation, for the creation of a committee to probe Palestinian grievances against Israel relating to the sport. Israelis worry they will pursue similar steps ahead of the 2016 Olympic Games.
Some critics of Mr Netanyahu believe he is cynically using BDS as a populist rallying point, and building it up as a paper tiger, to mobilise the Israeli public for political purposes.
However, there are signs that Israel's disquiet over BDS is genuine. This week an Israeli financial newspaper covered a leaked government report estimating that BDS could cost Israel's economy $1.4bn a year. The estimate included lower exports from the settlements in keeping with the EU's plans to begin labelling goods made there — not part of the BDS movement, although many Israelis lump the two things together. The Rand Corporation, the US think-tank, says the costs could be more than three times higher: $47bn over 10 years.
The potential stakes for business became clear last week when Stéphane Richard, Orange chief executive, told a Cairo business group that his company, which has come under pressure from campaigners, would leave Israel if it could. The remarks infuriated Israel's government and many customers. Mr Richard later apologised and travelled to Israel to confirm Orange's "commitment to Israel".
In addition to Israel's offensive against BDS, its supporters overseas are marshalling forces. The US states of Illinois and South Carolina have passed measures to discourage companies and institutions in their states from supporting boycotts. Fringe elements on both sides are also resorting to ugly tactics. Last year in South Africa, BDS activists targeted Woolworths and left severed pigs' heads inside what they thought was the kosher section of a Cape Town store. (In fact it was the halal meat section.) Woolworths still stocks Israeli products.
In the US, a new website called Canary Mission runs names and pictures of BDS supporters, including university students, with the apparent aim of jeopardising their job prospects. Critics compare it to McCarthyite tactics.
Ultimately the boycott movement's success will hinge not only on financial resources or operational tactics, but on winning arguments. BDS activists express confidence they will prevail.
"While regimes of oppression may be strong, when people are resilient, organised and reach out to people of conscience around the world, we can win," says Rafeef Ziadah, a BDS activist. "This is not to say that it will be easy, but the tide is certainly turning."